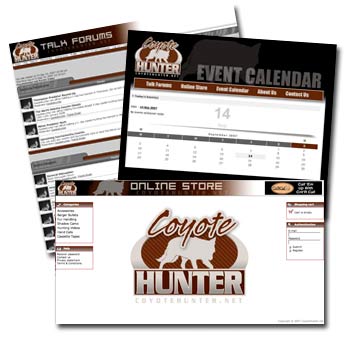 Welcome to CoyoteHunter.net!

Your one-stop shop for all things "COYOTE".
For those of you who are new to this site, we warmly welcome you.

If you are looking for helpful tips on putting up fur, reloading, calling, trapping and snaring coyotes, look no further. Welcome to a community of people who are doing that every day with proven results.

If you want access to proven, top-quality predator hunting products that stand up to the rigors of being hunted hard - all at a reasonable cost - look no further.

If you want access to the most comprehensive list of upcoming events for coyote hunting, look no further.

For all these things and more, you've found your new home.

We encourage you to take a few moments to register on the forums and in the store. We'll send regular updates on events and special savings on top predator hunting products.

Here, you will find the CoyoteHunter.net Online Store filled with coyote hunting items. No need to wade through pages of grunt tubes, turkey decoys and duck calls. CoyoteHunter.net carries only reliable, high-quality products proven to enhance your coyote hunting experience and productivity in the field - all at reasonable prices. Our excellent assortment of coyote-themed caps and T-shirts make great gifts for yourself, your family, friends and everyone on your shopping list.
Look to the CoyoteHunter.net Calendar of Events for information concerning upcoming tournaments, seminars, and conventions. Again, all events are focused exclusively on coyote hunting. We encourage you to submit flyers and event information for our consideration and inclusion in the calendar of events. In our efforts to offer the most reliable information and steer visitors to the best experiences possible, we will screen postings for content and perceived event quality.
CoyoteHunter.net Talk Forums are a great place to learn about tactics and gear, and to gain valuable insight from bona fide coyote hunting experts. The forums have been active for more than five years and we've spent a great deal of time shaping the content of the forums while eliminating distracting content (name-calling, chest-pounding and ads for off-topic web sites and products). Our goal is to maintain the forums as a place to share stories and hunting photos, ask questions, and exchange ideas.
What separates this site from the other coyote chat and talk forums? Here you will find a devoted group of coyote hunters -- experts and beginners alike. The experts who call this forum home spend their days hunting and trapping coyotes - year-round, day after day. Not only does this add value to the website as a whole, it also gives us an element of credibility that you'll be hard-pressed to find anywhere else.

Feel free to peruse the forums to gain valuable knowledge concerning reloading, a market report with contact information for local fur buyers, and in-depth research papers on predators. Post photos from your last hunt, share the play-by-play of the excitement, and stop in to read posts from others in the community.

I would rather get to know all of you over a beer at some small-town bar after having spent a long day out and about after coyotes. In this day and age, however, we have the opportunity to talk with hunters in Pennsylvania, North Dakota, Minnesota and Texas all at the same time. There is always someone out there hunting coyotes even when you canít get out. It's nice to hear their stories and see their pictures even when you are stuck behind your desk.

We are all in this coyote obsession together, and we welcome you to CoyoteHunter.net